Sonam Velani
Founder and CEO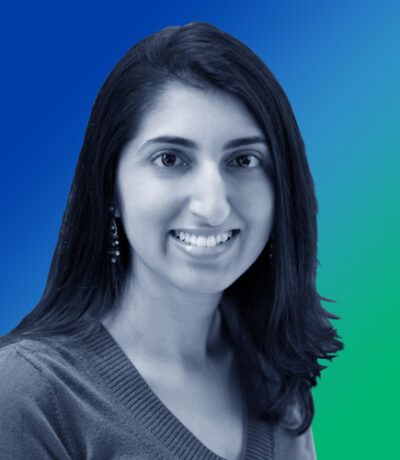 Sonam Velani
The Urban Resilience Studio
Founder and CEO
Sonam Velani is passionate about cities and the infrastructure and technology that drives them forward. From New York to Barcelona to Mumbai, she has collaborated with businesses and governments across the globe to design, finance, and implement multi-billion dollar investments in climate-smart infrastructure, affordable housing, and economic development. Having worked at Goldman Sachs, The World Bank, the New York City Mayor's Office, and Zipline, she is skilled at building relationships with diverse stakeholders, structuring complex financial transactions, operating large-scale projects, and leading public-private partnerships to ensure inclusive and sustainable growth. Sonam is now launching The Urban Resilience Studio, a venture platform that invests in diverse entrepreneurs building climate tech for cities – ensuring inclusive and sustainable growth.
Sonam's interest in urban development is deeply rooted in her lived experience. She was born in Mumbai, India and moved to Chicago, USA as a young child. An undocumented immigrant for over two decades, she understands first-hand the complicated ways that inadequate housing, limited transportation options, and environmental risks create structural barriers to upward mobility.
The first in her family to go to college, she has made it her mission to tackle these inequities head on. She attended Harvard University on a full scholarship and received a BA in Government, Economics, and Visual & Environmental Studies. Whether investing in cutting-edge tools to achieve carbon neutrality in NYC, financing the largest public transit agency in the US, delivering life-saving medicines via drone in Africa, or creating the first open-source database of urban infrastructure in Asia, she is keen to leverage technology to better align the public sector with the needs of the people it serves.
Sonam is a strong believer in paying it forward and loves being active in her community. She has received the National President's Volunteer Service Award, serves on The Coaching Fellowship to support young women in social impact careers, advises the Aga Khan Development Network on economic empowerment in the Ismaili Muslim community, volunteers with the Girl Scouts, and is an On Deck Climate Tech Fellow. She also founded MPower, a mentorship program for DREAMers that helps immigrant and first-gen students attend top-tier universities.
In her free time, she enjoys investing, biking, museum hopping, watching reruns of the West Wing, and getting lost in new cities and new conversations – 60 countries, thousands of people, and still counting on both fronts!